Program Background and History
The Canadian Studies Program was founded in 1982 by Professor Thomas Barnes (History and Law) and Victor Jones (Political Science). Nelson Graburn (Anthropology) served as co-director and then director until July 2012. The Program is currently directed by Professor Irene Bloemraad (Sociology). The Program is assisted by an External Advisory Board.
Over the past three decades the Program has developed into one of the leaders of Canadian studies in the United States. Locally, our outreach efforts enable scholars and students at nearby institutions to interact with Berkeley affiliates, to our mutual enrichment. Through its extensive activities, which include regular symposia and colloquia and frequent conferences, the Program has achieved national prominence.
On the occasion of the the Program's thirtieth anniversary in October 2012, Chancellor Robert Birgeneau offered these words: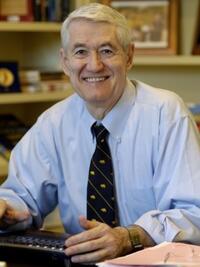 "Even before I arrived at Berkeley, I was aware of Berkeley's leadership in Canadian Studies in the United States. It was a pleasure indeed to find such a robust program with an interesting range of activities. Today both Canada and the U.S. face challenges in dealing with evolving issues in the environment, in health care, and in the economy. Learning to understand our similarities and our differences can help both Canada and the U.S. each find solutions that respond to our similar, yet distinctly different societies. A strong Canadian Studies program benefits both countries. I offer my warmest congratulations to the Canadian Studies Program on the occasion of its 30th Anniversary." Robert Birgeneau
Image: Robert J. Birgeneau, Chancellor Emeritus of the University of California, Berkeley, is a member of the Program's Faculty Advisory Board.
Founding the Canadian Studies Program
Few events capture the close relationship between the United States and Canada better than the Iranian Hostage Crisis of 1979-81. For fifteen long months Americans nervously followed the news as fifty-two fellow citizens were held captive in Tehran. Among the American Embassy officials stationed in Iran, six were able to escape just two months after the crisis began – thanks to false passports supplied to them by the Canadian Embassy. Like all Americans, UC Berkeley Professor Thomas Barnes (History and Law) was thrilled by this development. Barnes wrote to the Government of Canada thanking them for their aid. Soon thereafter, Alan Unger – an academic affairs officer stationed at the Canadian San Francisco Consulate – suggested to Barnes and UC Berkeley Professor Victor Jones (Political Science) that they start a group at Berkeley for Bay Area scholars interested in Canada.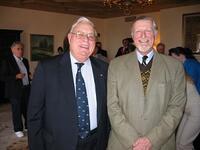 Though no Berkeley scholars then studied exclusively Canada-related issues, many were interested in comparative approaches to Canada and U.S.-Canada relations. In 1981 Professors Barnes, Jones, and Mr. Unger brought this informal group of scholars together and, after a series of current-events talks, decided to establish a formal program for Canadian topics on campus. But why a formal program at Berkeley? In the words of Professor Barnes, it was readily apparent that "American ignorance of Canada is a cliché" but "also a truth." To combat American unfamiliarity with Canada, its founders envisioned the Program as an interdisciplinary group open to all scholars, businesspersons, government officials and citizens interested in Canada. They also sought to leverage Berkeley's reputation as America's leading public university to attract Canadianists to discuss matters informing both academic and public discussions. Backed with the financial support of the Government of Canada, the Canadian Studies Program was approved by the Institute of International Studies in 1982 and, under the leadership of Co-Directors Barnes and Jones, went to work.
Image: Program founder the late Prof. Thomas G. Barnes (left) and Prof. Emeritus Nelson Graburn.
First Steps: 1982-1992
Despite modest budgets, the Canadian Studies Program organized more than two hundred events in its first ten years alone, ranging from informal gatherings to meticulously organized colloquia. The Program also began running a series of lectures – often cosponsored with other campus groups – that brought distinguished academics, business leaders and government officials to Berkeley to discuss their research or current events related to Canada. And at the suggestion of Visiting Professor Martin Lubin (SUNY Plattsburg; Political Science) the Program established its famous bag-lunch sessions in 1983. Since then, hundreds of scholars have presented their ongoing work before group members in this intellectually rigorous, though informal setting.
The Program also undertook several multiyear projects that responded to major contemporary affairs in Canada and U.S.-Canada relations. Thanks to a generous $75,000 grant by the Donner Foundation, one such project – a comparative study of North American federalisms – culminated in the publication of three edited collections in the early 1990s. Likewise, graduate student Yvonne D'Angela was recruited by the Program and the California World Trade Commission to publish an extensive guide – California, Canada, and Free Trade: A Guidebook for California Business – to introduce American businesspersons to trading practices in Canada and the new free trade market.
While the leadership of the Program changed during these first ten years, its vision and achievements did not. World-renowned UC Berkeley Professor Nelson Graburn (Anthropology) replaced Professor Jones as co-director in 1986 and Dr. Rita Ross (Anthropology) took on administrative leadership of the Program as it moved from IIS to International and Area Studies (IAS). Thanks to their work and that of their predecessors, the Canadian Studies Program continued to thrive. In 1991 the Association for Canadian Studies in the United States (ACSUS) organized a visiting committee to gauge the effectiveness of Canadian Studies programs across the United States. Upon examining Berkeley's program, the committee chairperson stated that he "marvel[ed] at what you have done…without a substantial upfront endowment." In just ten years, Berkeley had become the place in California, if not the U.S. West Coast, for academics, government officials, businesspersons and the public to analyze and debate issues of day related to Canada and U.S.-Canada relations.
Expanding Possibilities: 1993-2002
The Program picked up right where it left off in its second decade of existence. Of the 201 events held during these ten years, popular topics of discussion included First Nations autonomy, Québec-Canada relations, and national defense. The Program also organized several forums which examined Canada U.S.-Mexico ties during the 1990s, including a multiyear Ford Foundation-funded symposia series and a highly successful conference entitled, "North American Federalisms and NAFTA," which brought former Canadian Prime Minister Kim Campbell to Berkeley as its keynote speaker. The Program thus retained and expanded upon its flagship events while balancing the varied academic interests of Canadianists connected to the Program and prominent current events in Canada.
Image: Inuit Artist Minnie Aodlak visited Berkeley in 1993.
In addition to these events, the Program's reach and visibility greatly expanded thanks to high-profile visiting scholars and the generosity of its supporters. During the 1993-1994 academic year, the Program had the honor of welcoming the Rt. Hon. Joe Clark, another former Canadian prime minister, as a Regents' Lecturer. He and his wife Maureen McTeer brought renewed energy and attention to the Program. In 1996 the Program was delighted to inaugurate its first fellowship program for visiting scholars – the John A. Sproul Fellowship in Canadian Studies – in honor of longtime supporter and PG&E official John Sproul. The Fellowship has since enabled numerous leading scholars of Canada to conduct research, write, and participate in Canadian Studies events at Berkeley, adding to the intellectual diversity and international standing of the Program.
Thus, from 1993 to 2002 the Program retained the most popular elements of its early years, while enlarging its scope and outreach to new communities of scholars, government officials, businesspersons, and the public.
Challenges and Opportunities: 2003-2012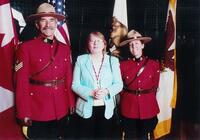 From 2002 to 2013, Canadian Studies at Berkeley further enhanced its reach by reinforcing the Program's institutional backing for Canada-related research while continuing to hold its regular events. During this time the Program once more held roughly two hundred events – often focusing on First Nations cultural expression and autonomy, federalism, energy policy and national defense – that reflected major current events in Canada and the research interests of the Program's members.
Image: Dr. Rita Ross with RCMP officers at the Consulate General of Canada in San Francisco, 2006.
Meanwhile, thanks to the tireless efforts of the Program's leaders, the generosity of its donors and the support of the Government of Canada, its decade-long campaign to establish an endowed chair came to fruition in the autumn of 2005. In honor of his many years of service to Canadian Studies, the new Canadian Studies chair was named after Professor Barnes while longtime co-director Professor Graburn was named its inaugural holder.
Soon thereafter, the Program inaugurated the Edward Hildebrand Graduate Fellowship in Canadian Studies, in honor of its benefactor. Together, the Chair and Fellowship ensure the continued operations of the Program and promote pioneering research on Canada, especially among younger scholars.
The third decade of Canadian Studies has also brought challenges and loss. In the spring of 2010, Professor Barnes, co-director of the Program, passed away. His energy and enthusiasm for all-things Canada had long provided the backbone for the Program and his passing was a deep loss for the entire Canadian Studies community at Berkeley and across the continent. In the winter of 2012, the Program announced that Professor Graburn, another longtime leader, would be retiring in July 2012 from his position as director and Thomas G. Barnes Chair. And in May 2012, the Government of Canada announced the end of the Understanding Canada program, which had provided modest annual funds to support Canadian Studies programs across the United States, including Berkeley's.
But with change came new opportunities. In July 2012 Professor Irene Bloemraad (UC Berkeley; Sociology), an expert in contemporary North American immigration and citizenship, took the helm of Canadian Studies as the new Barnes Chair and director. The Program also launched a Thirtieth Anniversary fundraising drive and announced the creation of a new Fulbright Visiting Chair in Canadian Studies at Berkeley. The Visiting Chair, combined with the Sproul Fellowships, ensured that the best and brightest Canadian minds continued coming to Berkeley.
Thus, the Program has reinforced its commitment to interdisciplinary scholarship and public engagement, while new fellowships ensure that Canadian Studies at Berkeley will continue to be a major site of research and engagement on Canada and U.S-Canada relations.
Taking Stock and Planning for the Future
As the new Thomas G. Barnes Chair in Canadian Studies, Professor Bloemraad is building off of the work of her predecessors while pursuing new opportunities to augment research and teaching related to Canada at Berkeley. Her main objectives are threefold: to encourage and facilitate Canada-related research among university faculty; to increase student and faculty exposure to Canadian approaches to scholarship and cutting-edge research done in Canada; and to forge stronger links between the Canadian Studies Program, its supporters, and potential supporters.
In conclusion, let us review a key question posed during the program's 30th anniversary in 2012: why a Canadian Studies Program at Berkeley? In the words of Professor Barnes, without Canadian Studies programs like Berkeley's, "much good scholarly work on Canada simply would not be done." Since U.S. scholars interested in Canada are rarely hired specifically to teach Canada-related subjects, Canadian Studies programs represent the best means to encourage scholars from across disciplines to incorporate Canada into their research and teaching. For thirty years, Canadian Studies has enabled expert scholars at Berkeley – and around the Bay Area – to do just that. Lacking a think-tank industry in the United States dedicated to Canadian affairs, Berkeley's Canadian Studies Program remains a leading venue for public policy specialists and businesspersons to learn about and debate leading issues of the day related to U.S.-Canada relations. And exposing Berkeley students – some of the smartest and most ambitious young people in the country – to the study of Canada lays the foundation for the same strong, personal ties between American citizens and Canada that Professor Barnes demonstrated over thirty ago during the Iranian hostage crisis.
Body by Brendan Shanahan.